9 Best Florida Beaches for Families
Florida's amazing beaches keep visitors returning year after year. Lovely water, beautiful sand, and picturesque sunsets and sunrises make Florida a fantastic warm weather destination. With lengthy stretches of coastline, Florida's many beaches offer plenty of activities for the entire family. To help you chose the perfect spot, we've put together a list of the best beaches in Florida.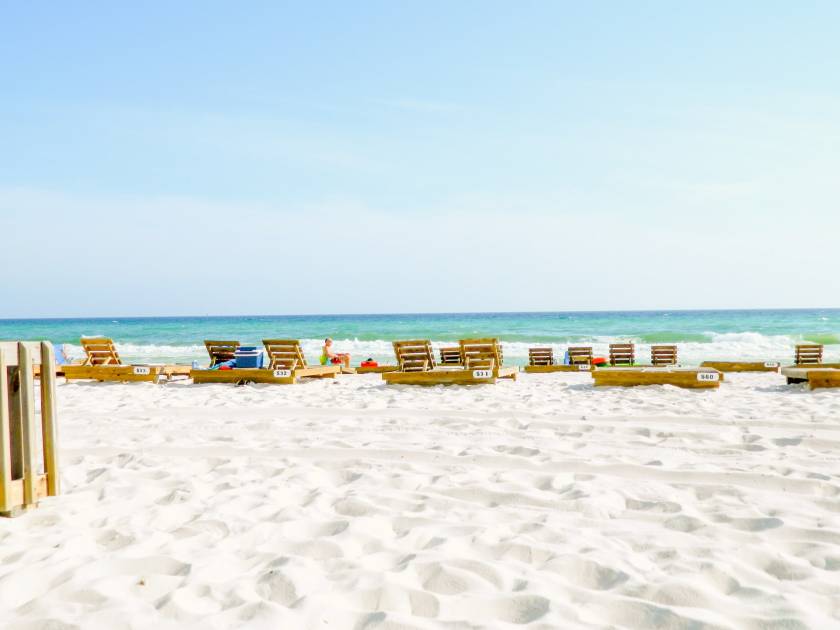 Photo by
Courtney Rader
on
Unsplash
Panama City Beach: For Nature Lovers
Panama City Beach is in northwest Florida, famous for sugar-white sand beaches, it is considered one the most beautiful beaches in the United States.
It's a popular vacation spot for people in the Midwest and Southern United States. In spring, it's a popular place for spring breaking college students because of its relatively short driving distance from many states.
Panama City Beach Highlights
One of our favorite things about Panama City beach is the convenient access to nature, while we don't mind crowded beaches, we love a nice relaxing stroll on unspoilt coastlines. One of our favorite parks in the area is St. Andrews State Park. It's both well-maintained and easily accessible. You can camp, fish, canoe, and bike the extensive trail system.
Paddle boarding is a great way to explore Panama City beach. The sport is challenging enough to feel like you've accomplished something yet easy enough that most people of a moderate fitness level can stand up and explore the coastline. You can rent paddle boards at Walkin' on Water (WOW) Paddleboards they offer training and tours, and if you want to learn a new skill while you travel WOW offers water safety and training lessons.
For paddleboard yoga, surf lessons and studio yoga, we recommend the certified yoga instructors at Studio by the Sea. They have fantastic classes right on the beach and a lovely facility with everything you need for yoga.
Southwest Panama City Beach has plenty of beach front restaurants, bars, and grills. Most of the restaurants are casual. Harpoon Harry's is famous for their seafood buckets, cold beer, and free beach chairs. Sharky's Beach Front Restaurant & Tiki Bar has a pirate ship themed playground for the kiddos and a large relaxed deck for the adults.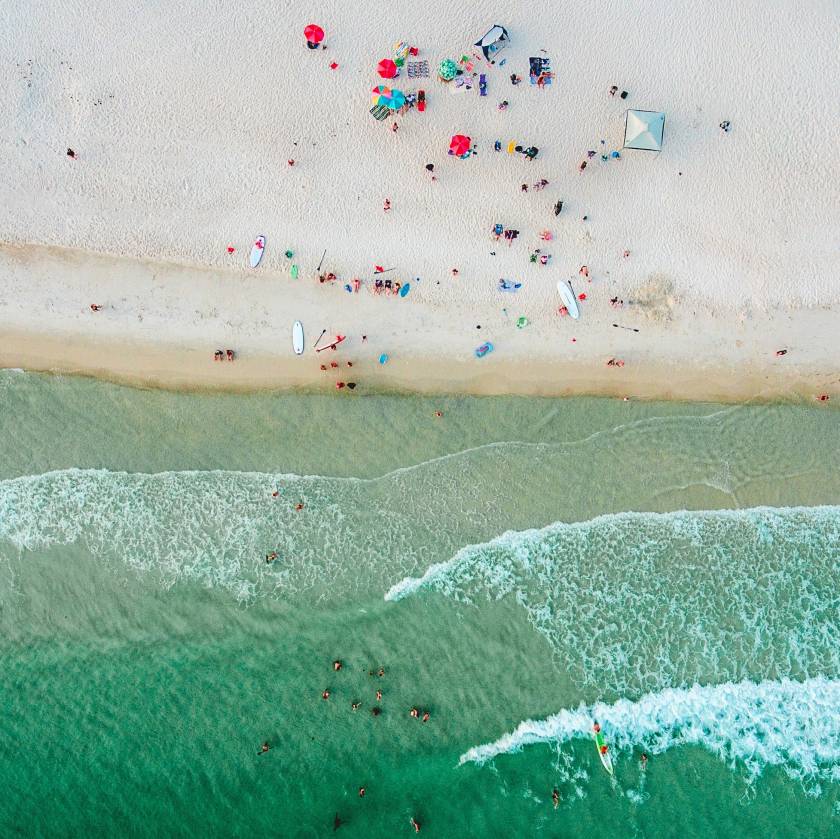 Photo by Charles Schuett on Unsplash
Who Should Travel to Panama City Beach?
    Travelers of all ages who like outdoor activities nearby but don't want to rough it
    Anyone who wants the best of both worlds, you can enjoy the city or head west to the state parks
    Active families that like to do several activities per day
Who Should Travel to Panama City Beach?
    Anyone looking for wild nightlife, Miami Beach might be a better option for you
With amazing beaches, loads of nature and fantastic food Panama Beach is our pick for the best beach in Florida for active families.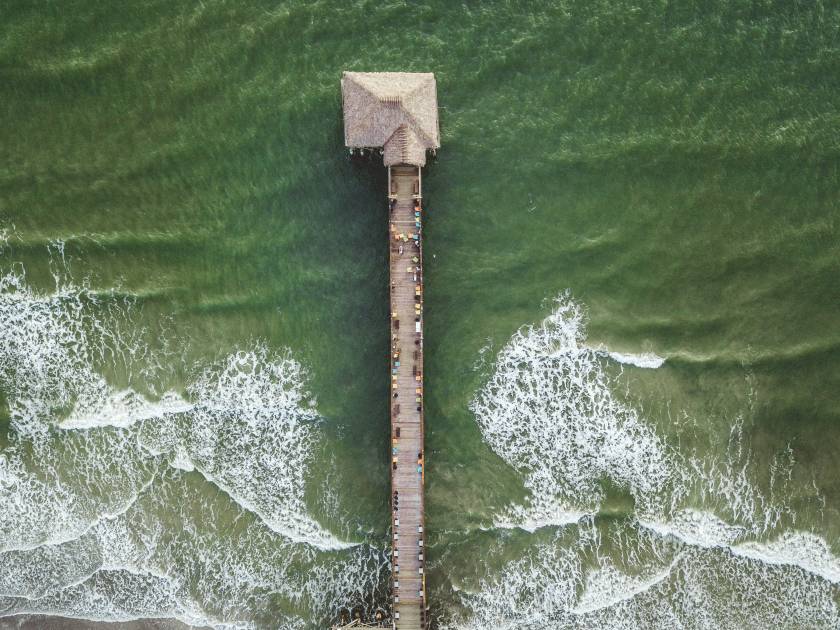 Photo by
Courtney Rader
on
Unsplash
Cacoa Beach Florida: Space Coast
Cocoa Beach is a very popular beach roughly one hour's drive east of Orlando and Disney. Known as Space Coast because it's 30 minutes from Kennedy Space Center.
This lovely, somewhat touristy beach town is great for families or couples looking for sun, fun and a bit of outer space.
Cocoa Beach Highlights
There's a long list of reasons to visit Cocoa Beach: it's affordable, tons of exciting activities, a lovely beach, the Kennedy Space Center, deep sea fishing, kayaking and airboat tours and more.
The Kennedy Space Center Visitor Complex is $57 per day for anyone over 12 years old and $47 for kids 12 and under. It's a perfect rainy day activity or a must see for anyone with an interest in space and space flight. You can buy discounted multi-day passes and book special activities for additional costs.
If you want more outdoorsy activities, Cocoa Beach doesn't have as many outdoor pursuits as Panama City Beach, but in Florida you are never too far from golf courses or undeveloped wetlands. You can kayak or view manatees. Anglars are never far a great catch, you can head to sea and book a charter fishing excursion.
Once the sun goes down, there's plenty to keep you entertained, from jazz clubs and cigar bars to cafes on the beach.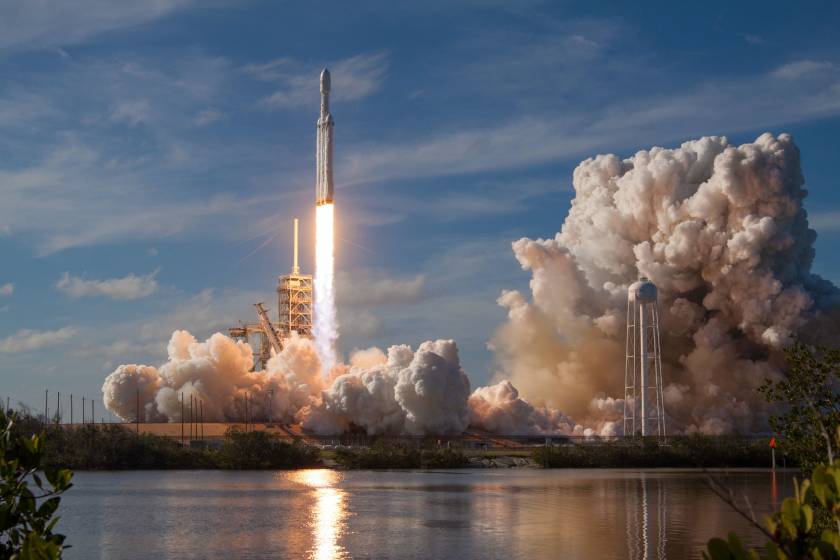 Photo by
SpaceX
on
Unsplash
Who Should Travel to Cocoa Beach Florida?
    Families who want to hit a beach near Orlando and Disney.
    Anyone who is interested in space exploration.
    Families leaving on a Disney cruise who want to experience a Florida beach.
Who Shouldn't Travel to Cocoa Beach Florida?
    People who don't like somewhat touristy areas.
    Anyone who appreciates unspoilt nature.
Disney Cruise Line makes its home in Port Canaveral, as well as Carnival and Royal Caribbean Cruise Lines.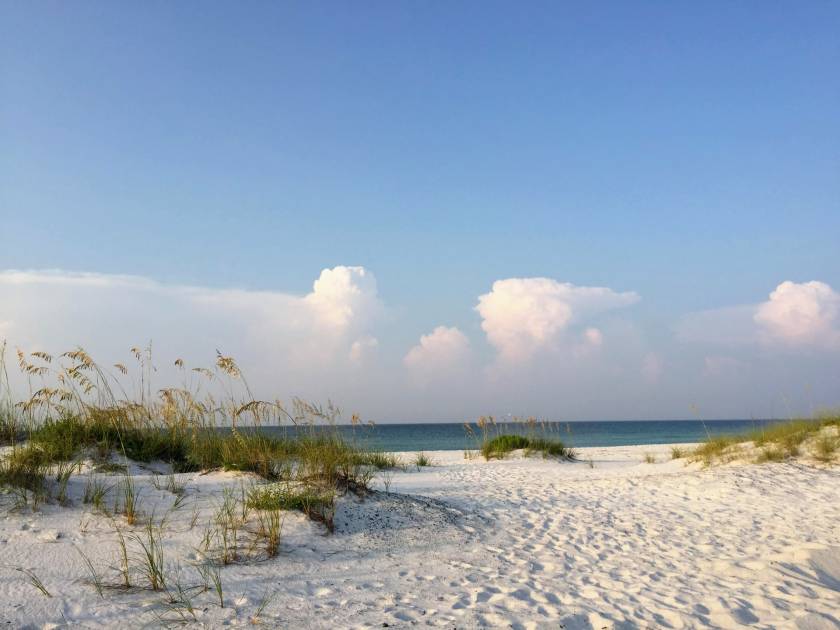 Photo by
John Evans
on
Unsplash
Pensacola Beach: Best of Both Worlds
It's easy to confuse Pensacola Beach and Pensacola City, but the two have very different vibes. Pensacola Beach is on a barrier island called Santa Rosa. The beach is near Pensacola city, the westernmost city in the Florida Panhandle before you enter Alabama. It's famous for its white sand beaches and is part of the Gulf Islands National Seashore.
Pensacola Beach Highlights
The Pensacola Beach Eco-Trail is well-known for an abundance of wildlife like sea turtles, dolphins, and manatees. Those interested in American history should check out Fort Pickens built in 1834 in the shape of an octagon.
Travellers can head to the Pensacola Beach Boardwalk for charming shops, dinning, and events.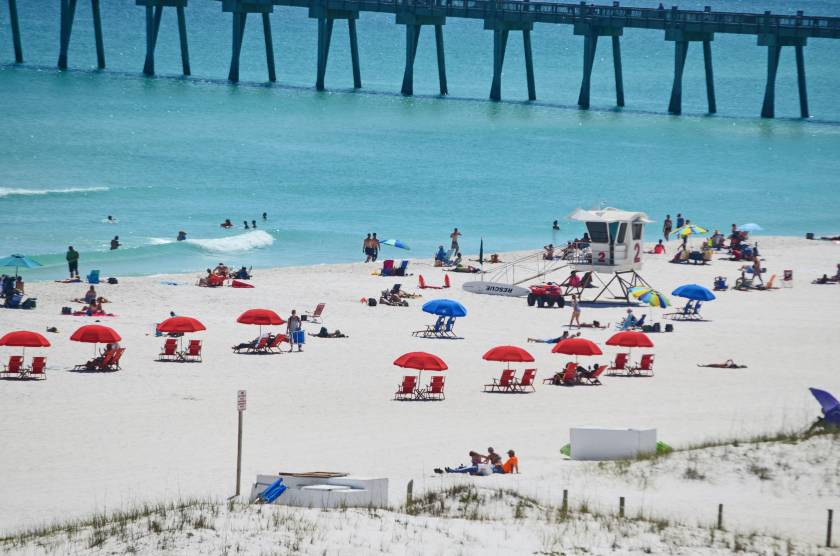 Photo by
Debby Hudson
on
Unsplash
The Gulf Islands National Seashore is a 150-mile stretch of underdeveloped white-sand beach on the Florida Panhandle. The contrast between the unspoilt natural Gulf Coast and high rise buildings is stark. The National Sea Shore is broken up into smaller sections of sand dunes and flat beautiful beaches. These areas are among the most beautiful beaches in Florida.
The area is well-known for its seafood restaurants and fun places to eat. Visitors will find everything from pizza to tacos, and of course plenty of seafood.
Who Should Travel To Pensacola Beach?
    Families who want a peaceful beach vacation with shopping, walking, and eating.
    Anyone interested in nature.
    Civil war history buffs who will get a kick out of Fort Pickens.
Who Shouldn't Travel to Pensacola Beach?
    Friends and groups looking for a wild party atmosphere.
    People looking for a big city vibe.
Pensacola City has a population of just under 60,000 people. It's small enough to access most interesting places, while being large enough to support a diverse selection of hotels, restaurants, and nightlife. The beach is about 15 minutes from the city's west coast.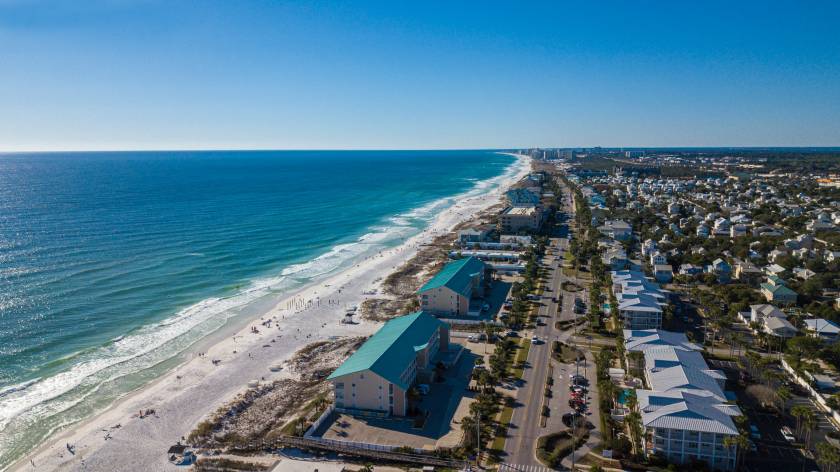 Destin Beach, Florida Destin City Photo by
Zach Vessels
on
Unsplash
Destin Beach: The Luckiest Fishing Village
If you want photogenic green waters, clean natural beaches, and fresh air, we recommend Destin Beach. Once a small fishing village, Destin Beach is fun little town for families and couples.
Destin City is in the Panhandle on the northwest coast of Florida. It faces the Gulf of Mexico is famous for the Desin Harbor Boardwalk and beautiful beaches overlooking the Gulf of Mexico.
Destin Beach Highlights
Like many of the panhandle beaches, Destin offers the conveniences of a medium-sized town set amongst the natural beauty of northwest Florida and Gulf of Mexico.
Nature is never far. Henderson Beach State Park has plenty of nature trails and natural beaches. It can get busy during peak times, be prepared to wait in lines during peak hours of visitation, from 10 a.m. to 3 p.m.
Destin beach also offers tons of opportunities to golf, rent golf carts, and plenty of watersports like boating and of course fishing.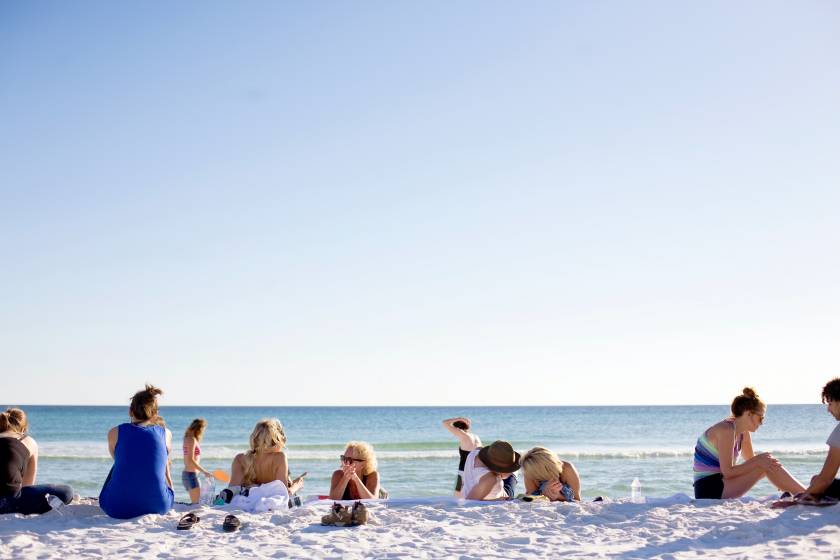 Photo by
Laura Fuhrman
on
Unsplash
Who Should Travel To Destin Beach?
Nature lovers looking for a small town beach vibe.
Families with kids who will appreciate the access to water parks.
Who Shouldn't Travel to Destin Beach?
Anyone looking for a big-city experience.
Destin was once a quiet fishing village, it's now a popular tourist destination. But, don't let that fool you into thinking it's lost its charm.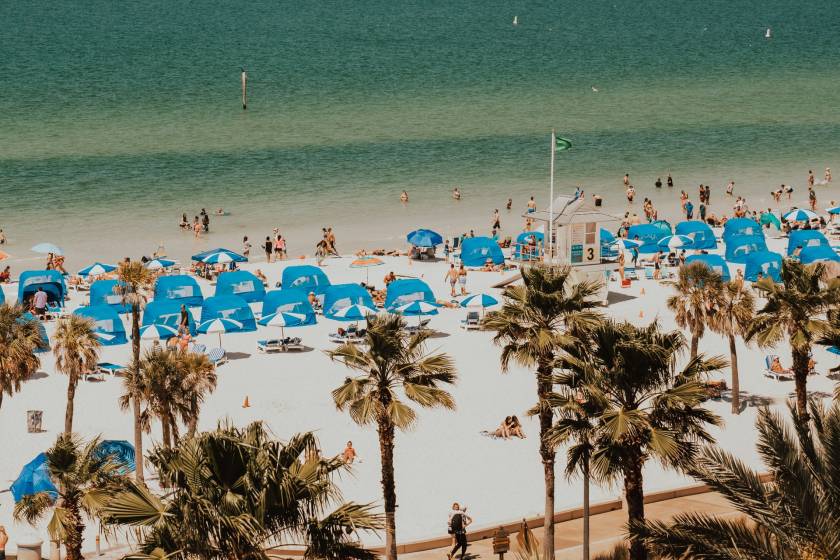 Photo by
Cody Board
on
Unsplash
Clearwater Beach: America's "Favorite" Beach
Rated as one of the best beaches in Florida and the United States, Clearwater beach is famous for its white sand beaches.  It's a very residential area on the Gulf of Mexico on the west central coast of Florida.
Clearwater Beach Highlights
Clearwater beach offers your usual Florida beach activities like parasailing, boat cruises, charter fishing, and paddle boarding.
One of the main attractions in the area is Pier 60. An 1,080-foot pier that juts into the Gulf of Mexico, you feel as if you're walking into the middle of the Gulf. Offering amazing views, inflatable slides, a cafe, and playgrounds, it has activities for all ages.
If you like sea-life, the Clearwater marine aquarium is a functional marine life hospital focused on rescuing rehabilitating and releasing marine animals.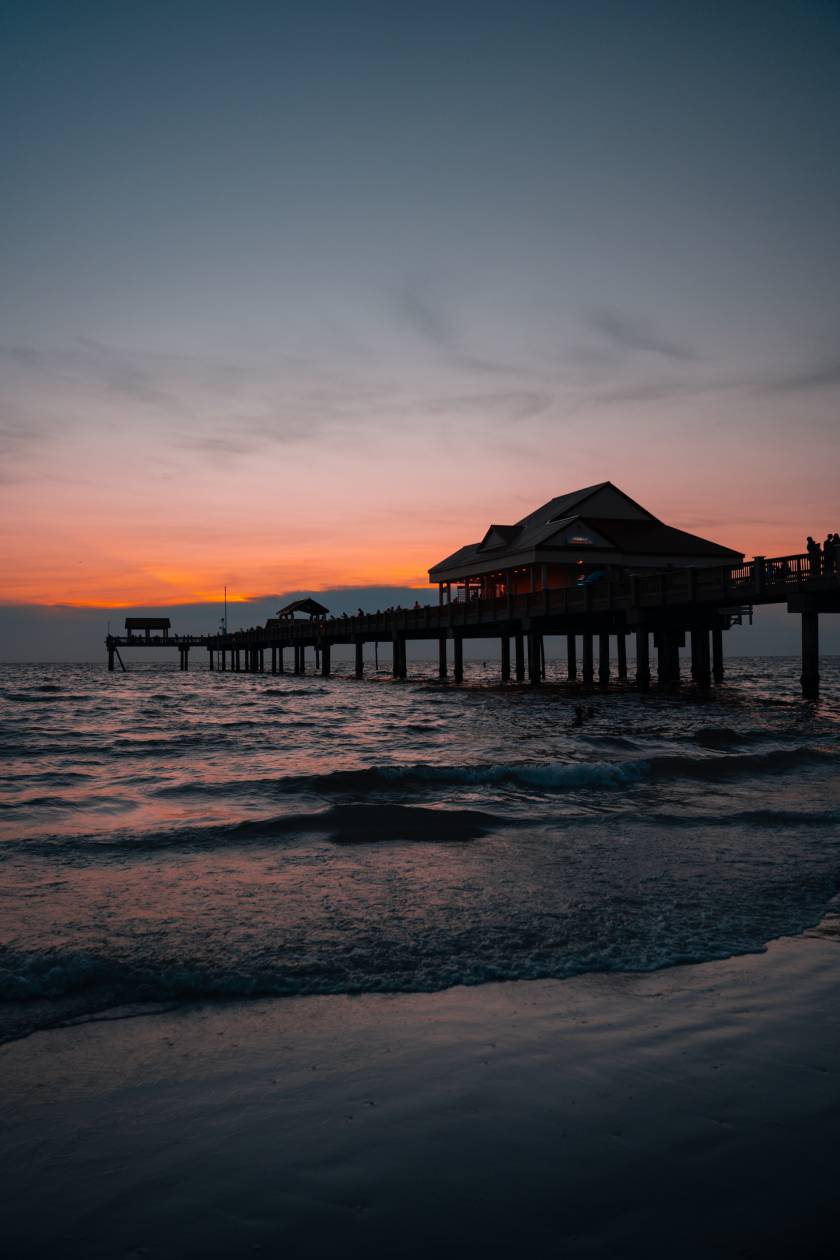 Photo by
Talia
on
Unsplash
Who Should Travel To Clearwater Beach?
Families who want access to a world class aquarium.
Anyone who wants convenient access to Tampa bay and a big city vibe.
Who Shouldn't Travel to Clearwater Beach?
People looking for an unspoilt, tourist free beach experience.
Comprising a resort and residential area on the west central gulf coast of Florida, the city has an welcoming, small-town feel.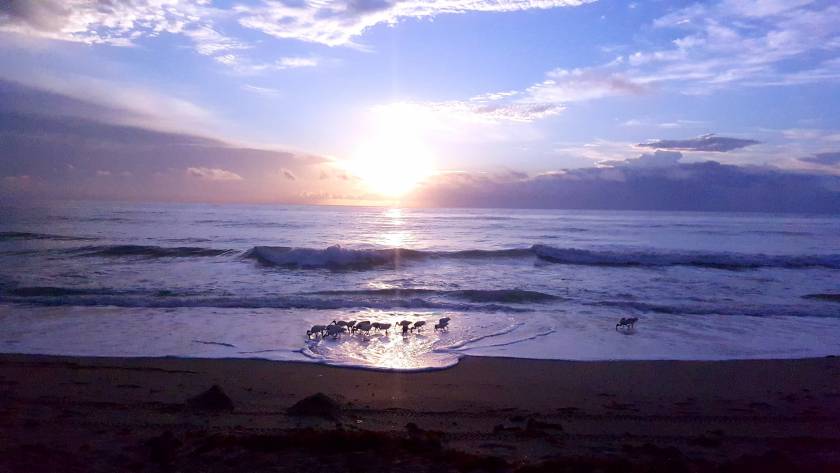 Photo by
Torey Singletary
on
Unsplash
Hutchinson Island:
 Turtle Heaven
From the super popular Clearwater beach to the lesser known Hutchinson Island, if you love nature you'll enjoy the beauty of this hidden treasure. A long barrier on Florida's east coast, Hutchinson Island is a relaxing no-frills destination.
Hutchinson Beach Highlights
The  rich waters are home to whales, sea turtles and manatees. Endangered loggerhead turtles sea turtles travel here to nest from April through September.
Popular beaches include Bathtub Beach, a family friendly location with a unique geography that makes it perfect for curious youngsters and adults. Bathtub Beach is named such because during low tides the water drain out, leaving a shallow, calm waters perfect for kids. The natural barrier provides the perfect chance to learn to snorkel. There are  scuba outfits providing reef dives as well.
There is no shortage of beach bars and seafood restaurants in the area. If you need a seafood break, you can find craft beer, steaks, and classic American food like hotdogs, hamburgers, and wings.
There are quaint night time events like the monthly Music Fest from 5 - 11 PM 3rd Friday of each month. The Jazz & Blues Society Arts and Crafts Show 8 a.m. to 2 p.m. every Saturday and every Sunday you can check out the Rockin' Riverwalk Music Series from 1-4 PM. The best part is that it's free!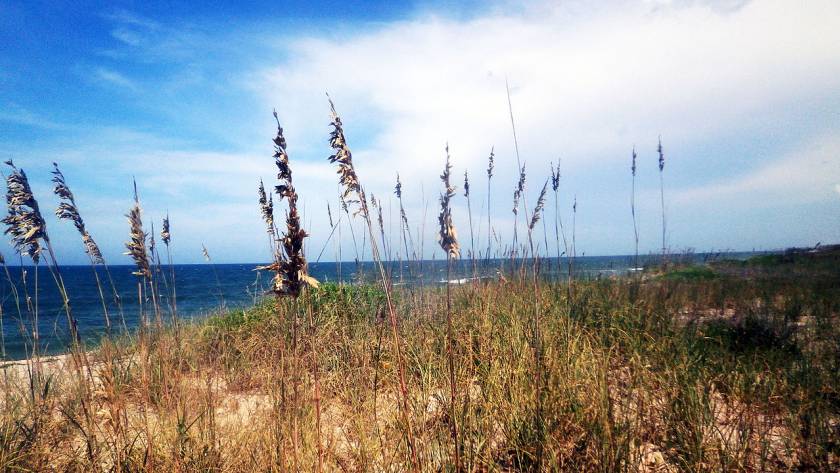 By Daniel Di Palma -
Own work
, CC BY-SA 4.0,
Who Should Travel To Hutchinson Island?
 Marine biology lovers, who will enjoy exploring tide pools, snorkeling, and scuba diving. 
Anyone looking for a relaxed not too touristy area to unwind and enjoy.
Who Shouldn't Travel to Hutchinson Island?
Partiers looking for a wild time.
Hutchinson beach also offers great fishing experiences, surfing, and several amazing golf courses.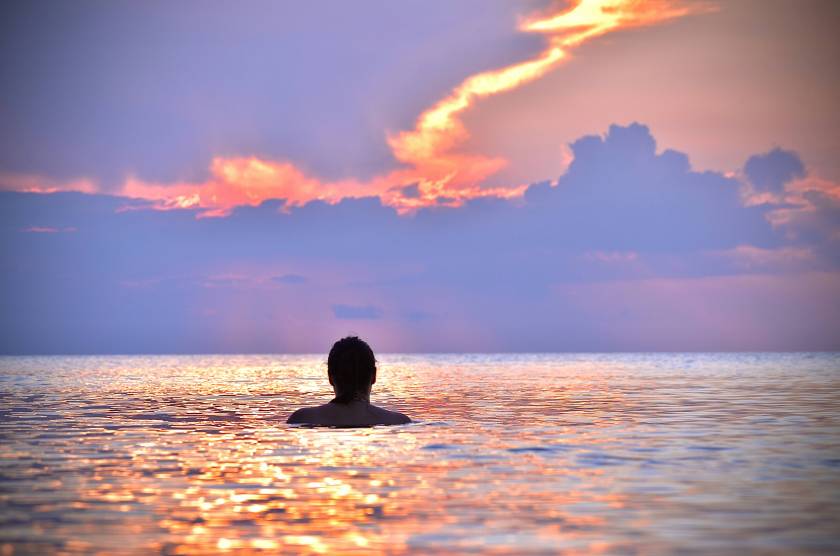 Photo by
Clayton Prouty
on
Unsplash
Siesta Key: The Best Sand in Florida
You may have heard the term 'sugar sand' referring to the ultra-white, soft sand beaches found on some Florida beaches. Siesta key is one such area. We love walking in the village, eating outdoors, and shopping.
Siesta Key is off the southwest coast of Florida between Roberts Bay and the Gulf of Mexico. Famous for its 'sugar sand'— a type of white, soft sand found on some Florida beaches. Siesta key is a charming village near the more popular city of Sarasota.
Siesta Key Highlights
Spend a day strolling through art galleries and museums, hunting for shark teeth, picking up local goods at the farmer's market or perfecting your golf game.
There's more to the Siesta beach area than just great sand. Sporty families can play tennis, volleyball, enjoy playgrounds, and picnic. The shore offers shallow waters and lifeguards.
The nearby Crescent Beach called "the most private, non-private beach in town" and rated the "World's Finest, Whitest Sand."
Turtle beach is the perfect place to get active with the family. You can paddleboard, picnic, or hunt for petrified shark teeth on the beach.
Photo by
Colin Lloyd
on
Unsplash
Who Should Travel to Siesta Key Beach?
 Families that like to keep things simple and stay active.
 Anyone who is fascinated by sea turtles.
 You like to walk barefoot in very soft sand.
Who Should Travel to Siesta Key Beach?
Families with teenagers, it may not have a lot for them to do.

The population of Siesta Key was 6,565. You can stay Sarasota nearby if you want a bigger city fee.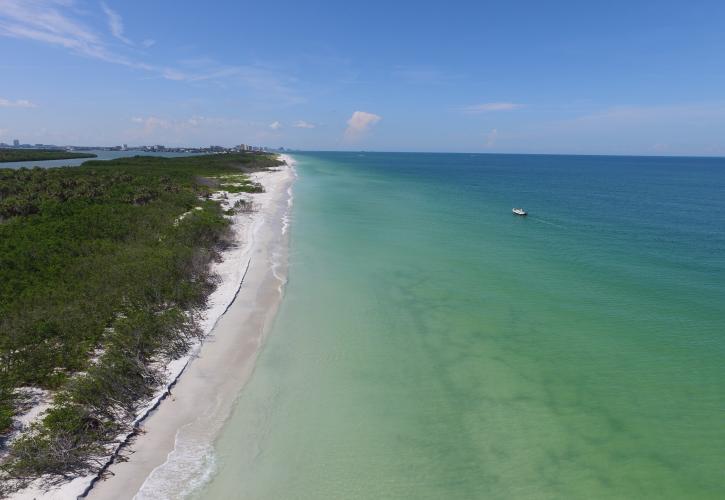 Photo by
Florida State Parks
Caladesi Island State Park Beach: Worth the Trip
North of Clearwater Beach across St. Joseph Sound and west of Dunedin is Caladesi Island State Park. It's one of the most beautiful beaches in Florida. It's only accessible by ferry or boat from Honeymoon Island. The park is pristine and very natural because it's not the easiest to get to and has environmental regulations.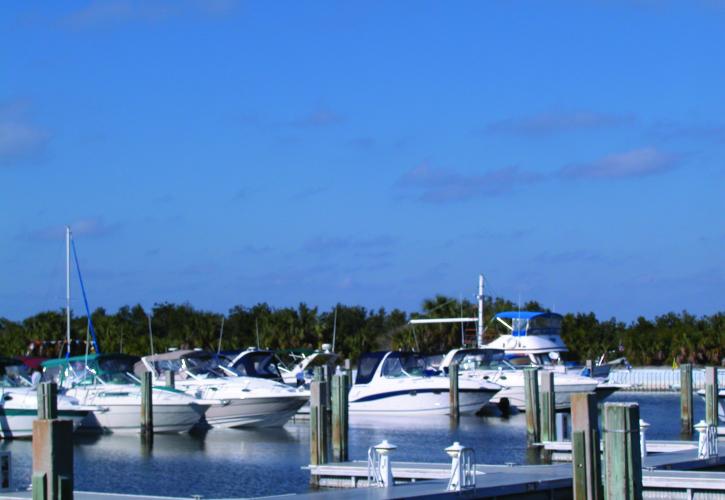 Photo By
Florida State Parks
Caladesi Island State Park Highlights
The most important travel tip if you plan on heading to Caladesi is how to get there. The park is only open from 8 a.m. until sundown. It's open 365 days a year and costs $6 to take the ferry from the Honeymoon Island dock.
The state park is a popular destination for weddings because of its blue waters, white sand, and pristine environment.For private events, special arrangements can be made at South Beach Pavilion by calling 727-260-5503.
The Florida Beach Services manages the facilities on the island including a cafe, that serves casual beach food such as fish and chips, burgers and smoothies. You can rent kayaks, beach chairs, and umbrellas.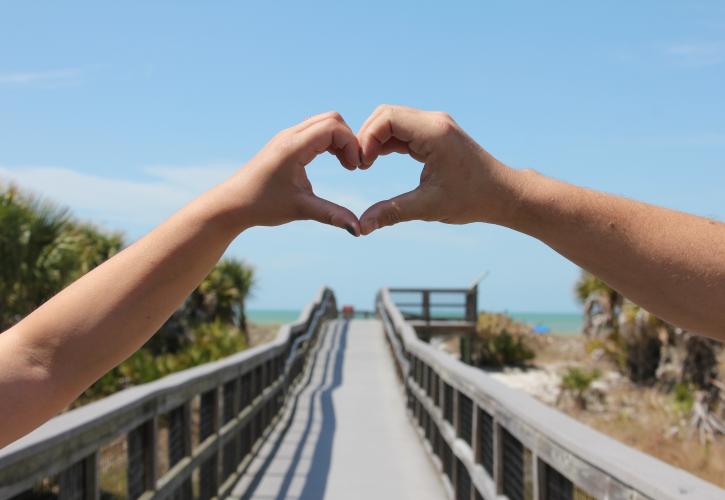 Photo By
Florida State Parks
Who Should Travel to Caladesi island Beach?
Families staying in the area that want to experience untouched beauty.
Intrepid travelers who want to avoid crowds.
Wildlife fans who want to view Florida's flora and fauna.
Kayak enthusiasts looking to avoid motors and water traffic.
Who Should Travel to Caladesi island Beach?
Anyone with a limited amount of time, this trip will pretty much take a full day.
People who like crowds, amenities, and excitement.
While the island is relatively remote and there are no hotels, you can camp boat camp at a marina with floating docks with 30 amp electric service and water hookups. A covered pavilion with a grill is available for picnicking.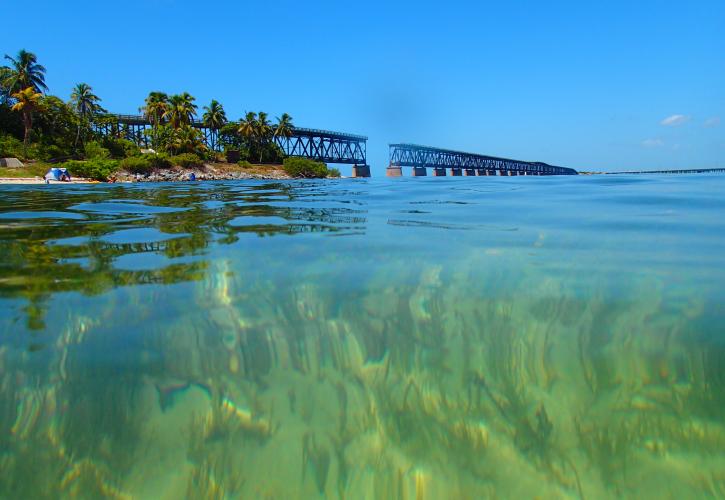 Bahia Honda Beach: Railroads and Sunsets
Bahia Honda State Park is located at mile marker 37 in the Florida Keys, near Marathon. This park offers one of Florida's most spectacular beaches and, since it is in a state park, the park services maintain a natural state. The park actually has two beach areas, each facing opposite directions so there is almost always one beach that is not affected by waves and wind.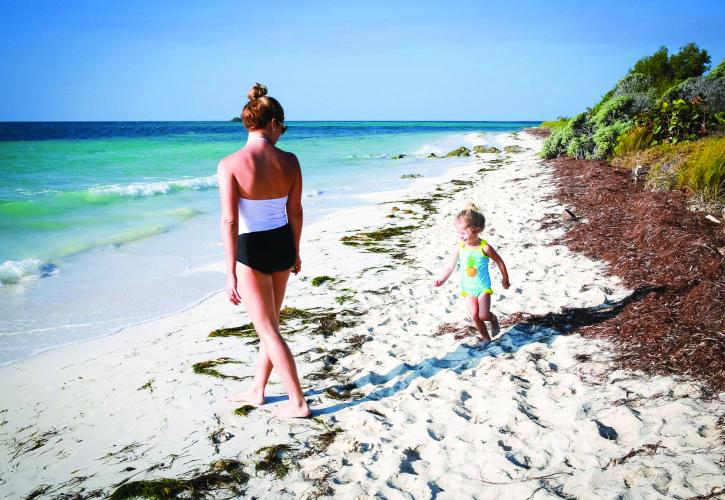 Way down south, there's Bahia Honda State Park in the Florida Keys. Much like Caladesi State Park, Bahia Honda is a natural beach with two beach areas, so there's likely a calm area for swimming with the little ones.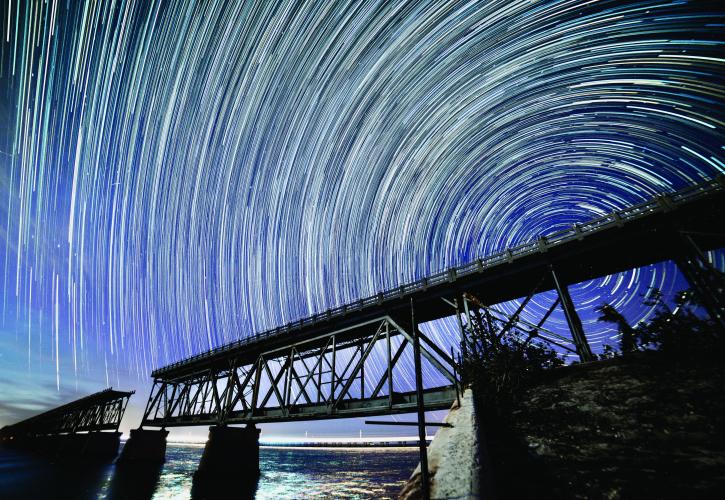 Bahia Honda Highlights
Henry Flagler, founder of the Florida East Coast Railway, attempted to build a railroad to Key West in the early 1900s first gave the remote island of Bahia Honda Key attention. The water is very shallow and there are views of the old railroad bridge.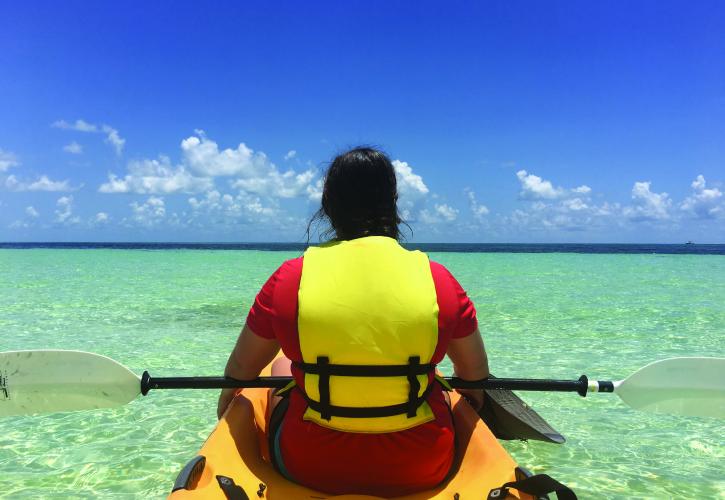 The island is popular because of its clear waters, amazing sunsets, and natural beaches. It's a perfect spot for kayaking, reef snorkeling, and diving. It's not uncommon to see reef fish, rays, barracuda, and the occasional reef shark. Bird watchers flock here for the wading birds and shorebirds. The park is also a part of the Great Florida Birding Trail. In 1999, the Miami blue butterfly was rediscovered after though to be extinct since 1992.
Who Should Travel Bahia Honda Beach?
 Families who love nature and want to explore florida's natural beauty while in the keys.
 Travelers who want to avoid crowds.
 Outdoorsy folks who want to view Florida's flora and fauna.
Who Shouldn't Travel to Bahia Honda Beach?
Anyone who wants more wild fun in the sun.
Unfortunately, the wellknown camping and walking area called Sandspur Beach is closed for walking and camping as they repair damage from Hurricane Irma.
Wrapping it Up
Thanks for reading! I hope we were able to help you plan your ultimate family beach vacation in Florida. If you need any advice get in touch here.