5 Perks While Staying Offsite At Walt Disney World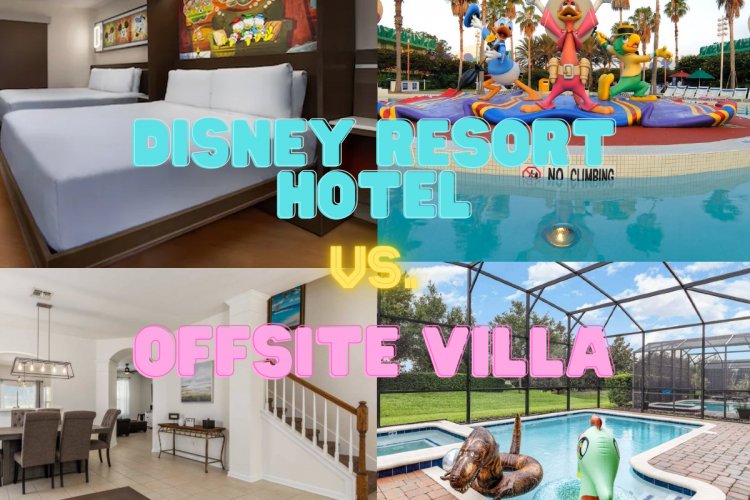 Staying at a themed Disney resort has its benefits, especially if your family has less than four people. The themed resorts are fun and convenient.
But what about large families and groups? It's not workable to stay at Walt Disney World Resort without booking a couple of expensive rooms.
There's no doubt that staying outside of Disney saves money. But there are tons more benefits to staying offsite. 
We're going to run through some insider tricks and secrets to make sure you find the best accommodation for your family's vacation.
 
More Space
We'll start with the biggest benefit when you rent an offsite villa — space.
If you have a family of five people or more, it's tough to find a well-priced resort inside of Disney. Also, it is difficult to get connected rooms because they are in very high demand, especially during holidays and weekends. 
A private villa about 8 miles from the park sleeps up to 6 people in their own beds. The largest villa we manage has up to 9 beds and sleeps up to 22 people. 
Not only does the extra space allow for everyone to have their own beds, they also have 5 bathrooms.
Fewer fights over bathroom space is a blessing.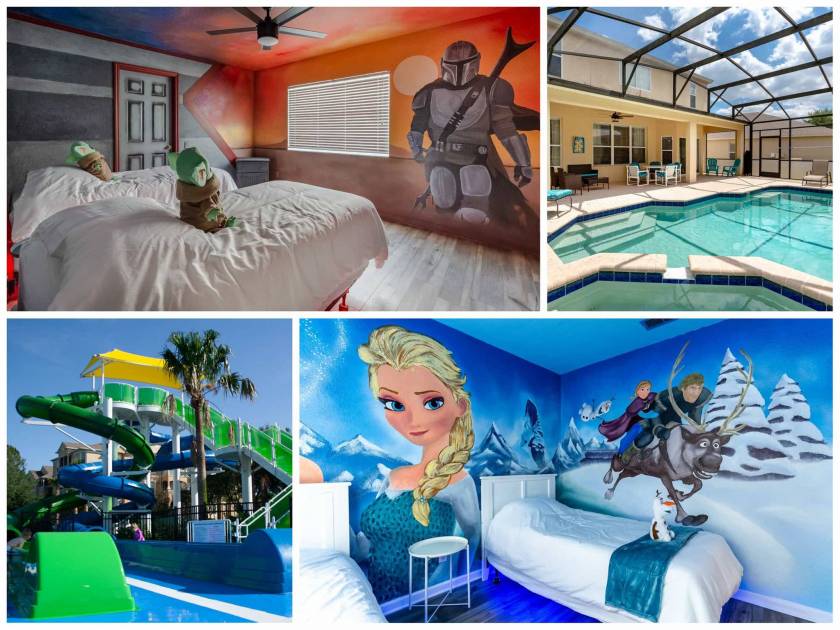 Spending time at Walt Disney World is great, but also is honestly exhausting. There's always some stress involved, and it's nice to return from a long, hot day at the park to the creature comforts of a home. It's a treat to return to a large villa with a private pool, a comfy living room, and modern kitchen. Many have Disney themed kids' spaces — some even have private movie theatres and arcade rooms. Often for less than the price of a Disney resort.
We all love our families, but a bit of quiet time between hectic days at the park is priceless.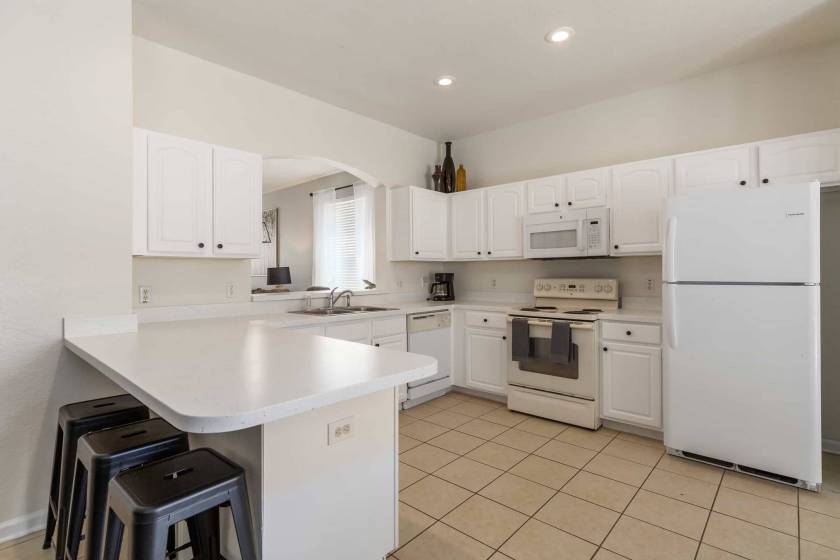 Greater Choice of Food
Disney has some great restaurants and we recommend checking a few out. They're fun and serve quality food.
But they are not the greatest value on earth. With a villa, you have options to cook, order in, or head to one of Orlando's fantastic restaurants.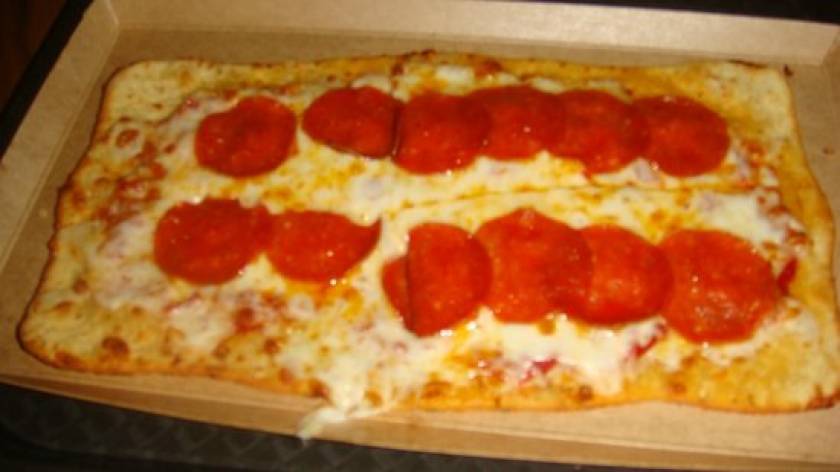 You can even pack lunches for your kids. Let's face it, the Pinocchio Village Haus is fine for a quick bite, and it isn't the worst $12 flatbread pizza we've ever had, but once per visit is enough.
After a few days eating theme park food, your wallet and waistline will thank you for a change of pace.
Convenient Parking and Transportation
If you're only coming to Florida to visit Walt Disney World, staying at a resort hotel is pretty convenient. But if you want to head to other attractions in the area, finding a central hub is important.
We recommend ditching the rental car and using Uber or Lyft to get around Orlando. It's about the same price after taking parking, gas, and rental fees into account and a lot more convenient and relaxing.
Here's a really good guide to help you get around.
If you stay at a Disney world themed hotel, parking isn't free for resort hotel guests, and starts at $15 per night.
Our villas have free parking. If you drove into town or rented, you can just forget about the car.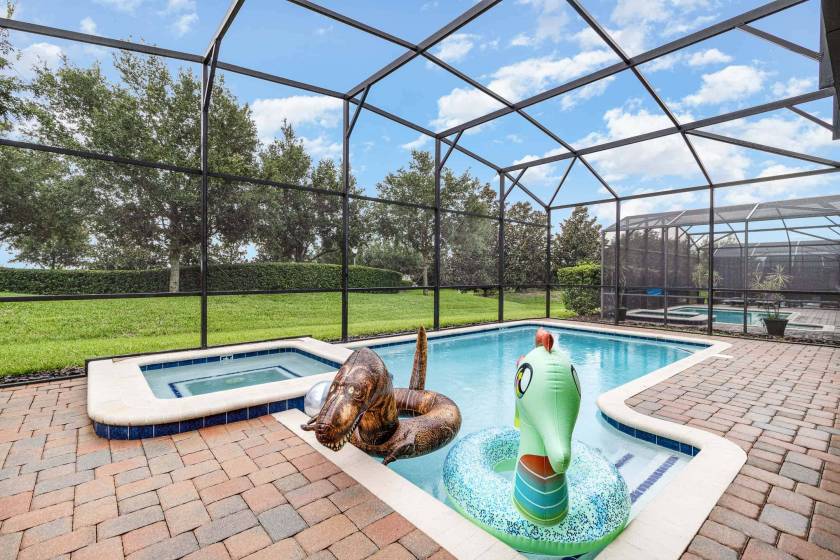 Increased Privacy
Disney is a very public place. It's amazing, it's popular and there are crowds. Staying in a hotel is also quite public. You share dining areas, recreation areas like the pool, and it's difficult to find a moment of peace.
If you want more privacy, what's better than having your own private pool, arcade, and movie theater?
When you want a cool dip, you don't have to worry about finding pool chairs or forgetting something from your rooms. Many rentals, like Champions Gate and Windsor Hills, also have a community pool with more amenities, like a lazy river and water slides.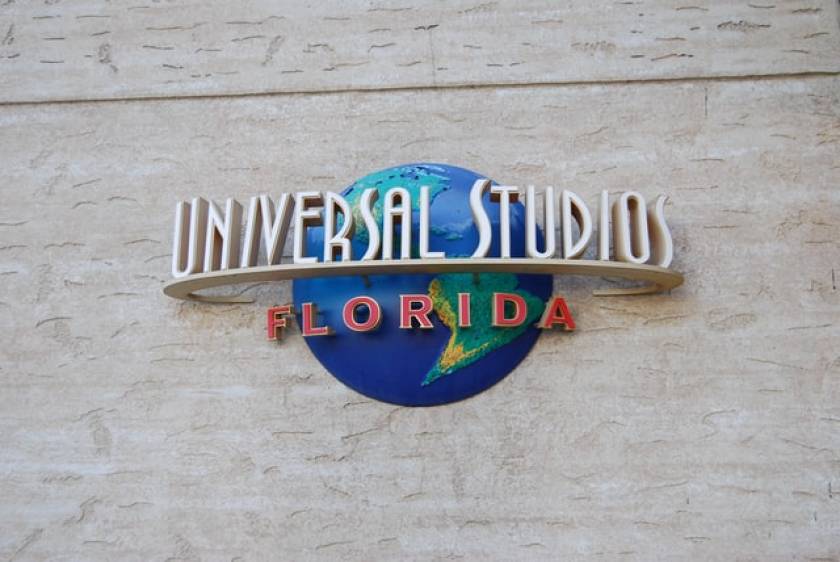 Flexibility
You can visit other amusement parks in the area like Universal Studios Orlando, SeaWorld and Lego Land much easier.
It's easy to forget that Walt Disney World has a larger area than a lot of small towns. Even if you stay at a theme resort, you still have to get around the park. Frequent park visitors use Uber and Lyft to get around Walt Disney World.
If you plan on leaving the resort hotel, you'll have to find your car, navigate out of Walt Disney World, park at another resort and do it all over again to get back.
Wrapping It Up
That's it, Disney themed resorts are great fun. If you have a chance, totally check them out. But if you're trying to plan a vacation for your large family, group or hopefully this helps you plan your next Disney vacation.