5 Best Activities To Do on Ambergris Caye With Kids (2021)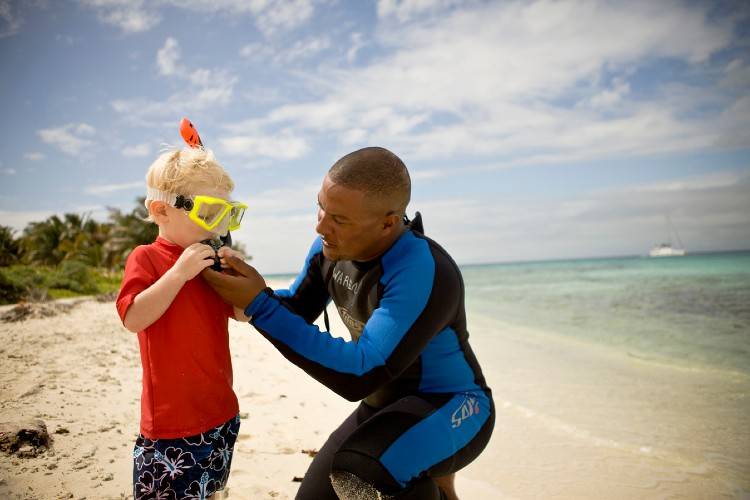 Wondering what to do on Ambergris Caye with your kids? We asked local expat parents and recent travelers about their favorite kid friendly activities to do Ambergris Caye Belize and received a lot of great feedback and thought we'd write up a quick list for our guests. From snorkeling with manatees to water obstacle courses, here are our favorite activities to do on Ambergris Caye with kids.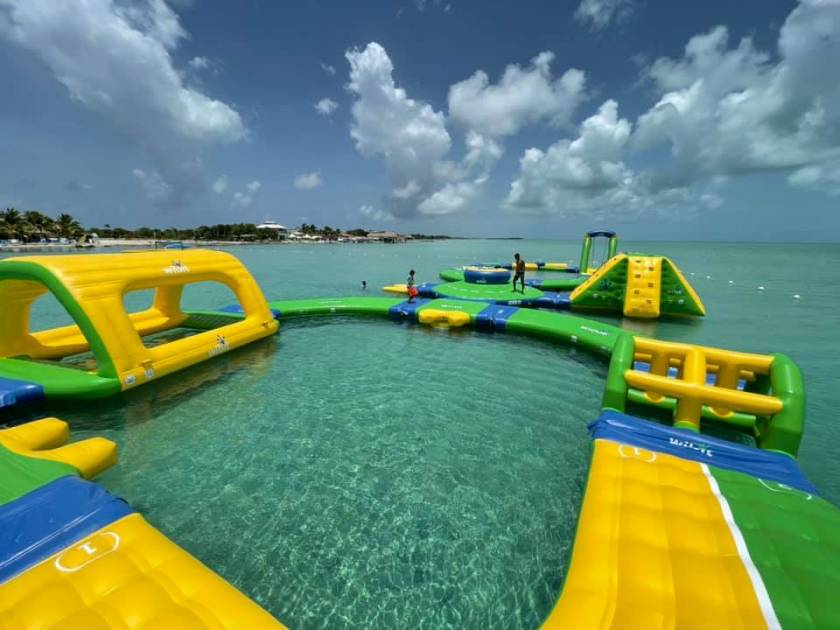 Secret Beach Water Park / Image:
secretbeachwaterpark.com
Secret Beach Water Park
Secret Beach is a popular area on the west side of Ambergris Caye, about 40 minutes from San Pedro Town by golf cart. In 2021, Happy Beach Bar and Grill launched Ambergris Caye's first water obstacle course.
Secret Beach Water Park Highlights
The draw of secret beach is the laid-back atmosphere combined with plenty of beach bars, sun and sand. It's a great place to hang out and have a few beverages, but lacked family friendly activities.
Happy Island Bar & Grill operates Secret Beach Water Park. It opened April 2021 and has been a family favorite since. If you're imagining tall water slides and lazy rivers, you'll want to lower your expectations slightly.
The Secret Beach Water Park is still a lot of fun for kids. The park is over 9,000 square feet of obstacles, slides, swings and jumps space for up to 60 people at a time. They offer a fun, safe and challenging water park obstacle course experience for all visitors and residents at a reasonable price.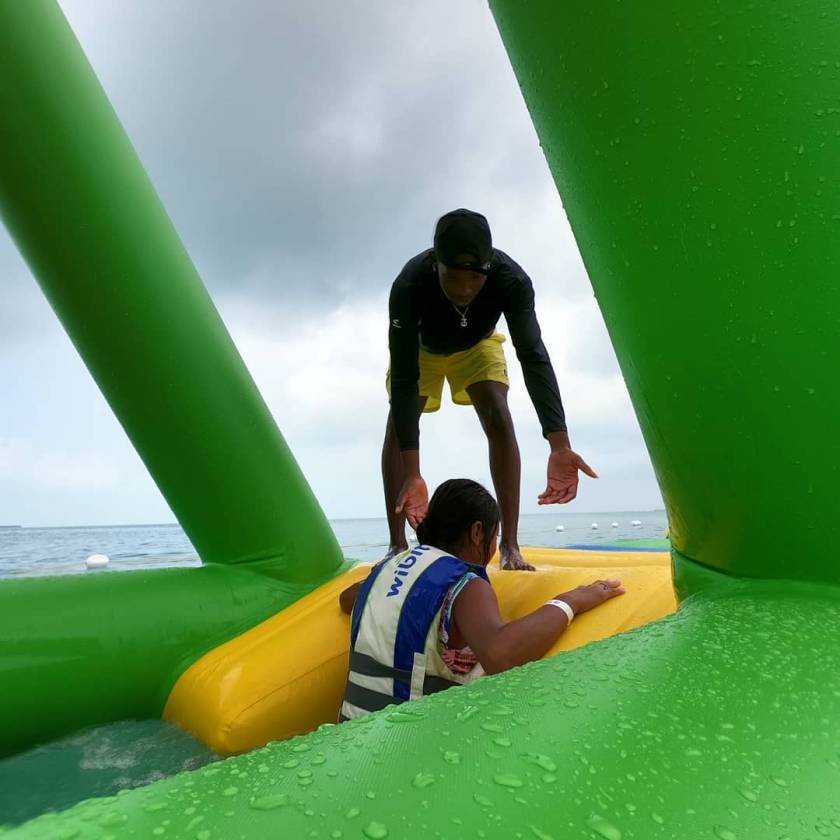 Secret Beach Water Park / Image: secretbeachwaterpark.com
Who Should Go to the Secret Beach Water Park with Kids?
Perfect for families with active kids who the like the sun.
Anyone who wants to relax on the beach while the kids play.
You can rent towels for $10 Belizean. Adults can relax, knowing the park has trained lifeguards onsite. It's a great place to have a beer, eat fresh seafood, and rent floating chairs to chill out while the kids play and try to get the best time on their large floating obstacle course.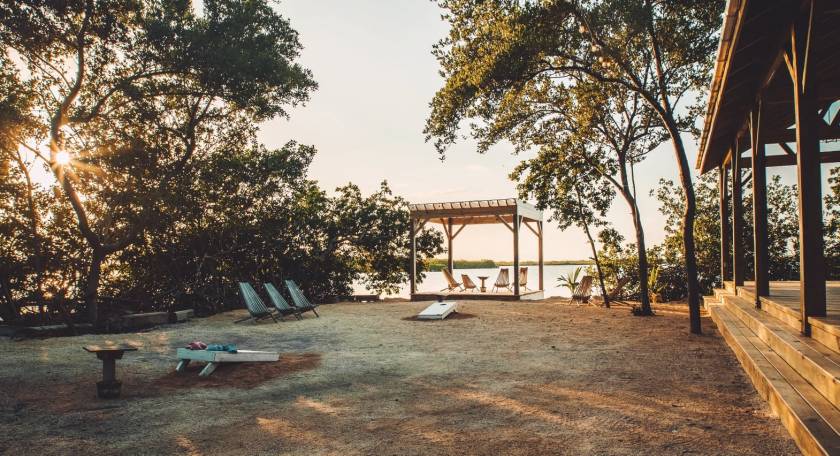 Image -
Truckstop Belize Facebook
The Truck Stop Family Entertainment Center
The Truck Stop started life as a food court made of old shipping containers. Over time, it developed into a family friendly entertainment center.
Truck Stop Highlights
The Truck Stop is Belize's first shipping container food truck park! Come try our different, exciting food options from our food trucks, or cool off with some ice cream from our ice cream shop.
They have a swimming pool with a swim-up bar, an 18-foot movie screen, an extensive outdoor games area, and a different fun event going on every night – including live music, game shows, multimedia trivia, movie nights, and all sorts of other special events. They are famous for their weekly game of Family Feud!
There's something for everyone on the menu. They offer pizza, unusual spring rolls, and Tex Mex.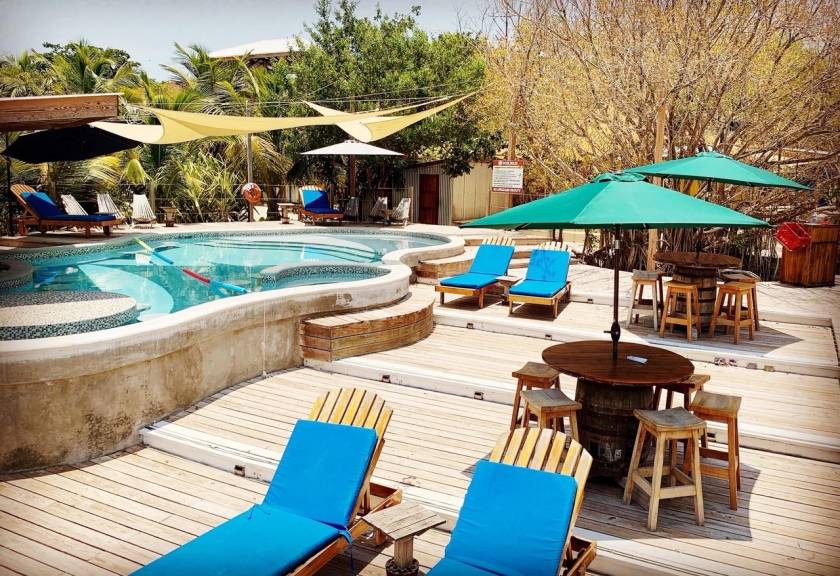 Image - Truckstop Belize Facebook
Who Should Go to the Truck Stop with Kids?
Families that like social activities like family feud
Anyone who likes live music
Competitive families who like to play games like corn hole
They're on Ambergris Caye, one mile north of the bridge on the way to Secret Beach. You'll want to make reservations during the busy season and when they have large events.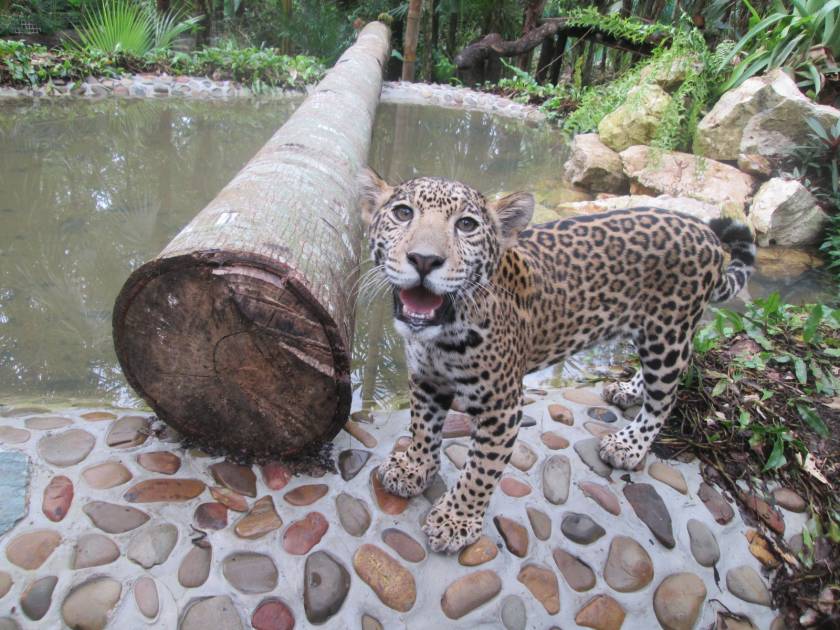 The Belize Zoo & Tropical Education Center:
Started in 1983, the Belize Zoo and Tropical Education center houses over 200 animals. The zoo is not on Ambergris Caye, but you can easily organize a day or overnight trip to the zoo. Families can even stay overnight.
Belize Zoo Highlights
It's more than just a zoo, the Belize Zoo Jungle Lodge offers dorms, pine cabins, and private guest houses for guests. The Savanna Nature Trail takes visitors through lowland savanna ecosystem where you can see yellow headed parrots, armadillos, and grey foxes.
The zoo also offers guided canoe trips on the Sibun River, home to iguanas, monkeys, hawks, and crocodiles.
If you're there for 1 night, you can cool off in their covered swimming pool. The special "after hours" tour of the Belize Zoo provides families a guided tour to see amazing nocturnal creatures.
Who Should Travel to the Belize Zoo with Kids?
Families with animal lovers looking for a full day mainland excursion
Groups looking for a slightly more rugged overnight experience who want to see amazing nocturnal animals.

Tropic Air's The Great Blue Hole Aerial Tour
The flight from Belize City to Ambergris Caye is stunning, but doesn't fly over Belize's most famous aquatic feature - the blue hole. Luckily, Tropic Air provides scheduled and privately charted flights over the blue hole.
Tropic Air Blue Hole Flight Highlights
The Blue Hole Flight heads over Lighthouse Reef Atoll and the blue hole several times. Guests also fly over the Belize Barrier reef. While flying, look out for marine life like rays, sharks and dolphins. Fights depart from San Pedro Airport, Caye Caulker and Belize city. The tour is 1 hour long and offered every Tuesday and Thursday. All passengers get a window seat.
Who Should take the Tropic Air Blue Hole Flight?
Adventurous families that want to see the blue hole.  
Families with kids who love planes.
Blue Hole Flight tours are weather dependent. Inclement weather may cause a reschedule or in rare instances a cancellation and full refund.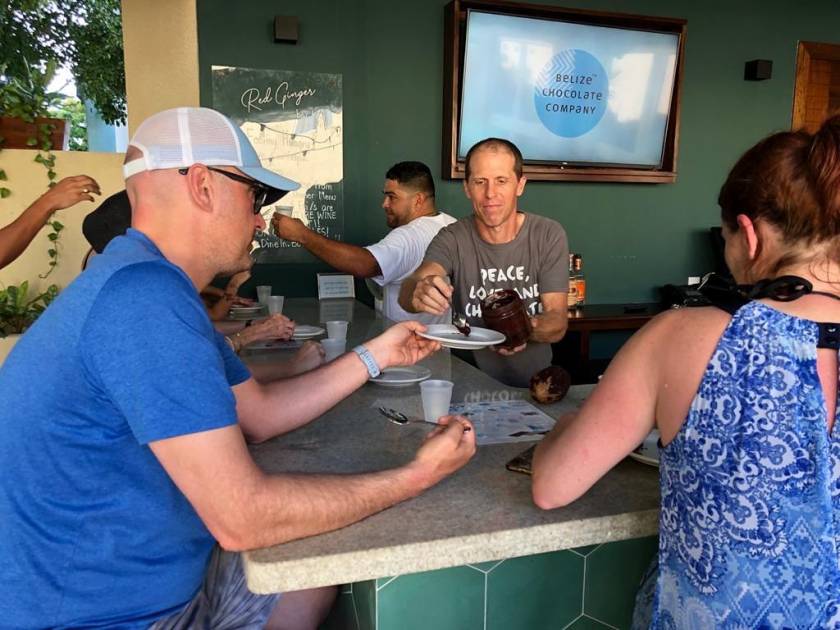 Belize Chocolate Company
- Chocolate Making Class
Belize Chocolate: Chocolate Making Class
Belize Chocolate Company opened in 2012 and has been a staple on Ambergris Caye ever since. Started by Chris and Jo Beaumont, who came to Belize to start a windsurfing company. After attending the Belize Chocolate Festival, they fell in love with chocolate making and shared their passion with visitors to Ambergris Caye.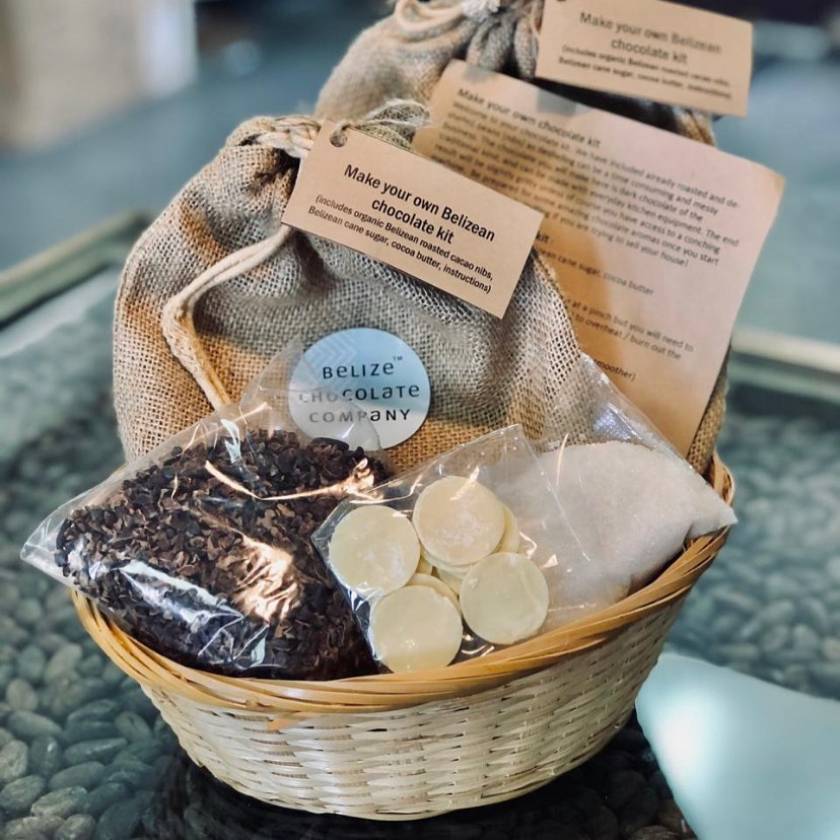 Belize Chocolate Company - Chocolate Making Class
Belize Chocolate Company Chocolate Making Class Highlights
The Belize Chocolate Making class is perfect for kids, and many people consider it a highlight of their trip to Ambergris Caye. The class begins with a well-produced introductory video about the history and origins of Mayan chocolate culture. You learn how they make their chocolate on Ambergris Caye; you make chocolate on a traditional metate, a ground stone tool used for processing grain and seeds, and sample plenty of types of Chocolate.
Who Should Take the Belize Chocolate Making Class?
 Families who like chocolate.
Anyone looking for a relaxing, informative class about Mayan Culture.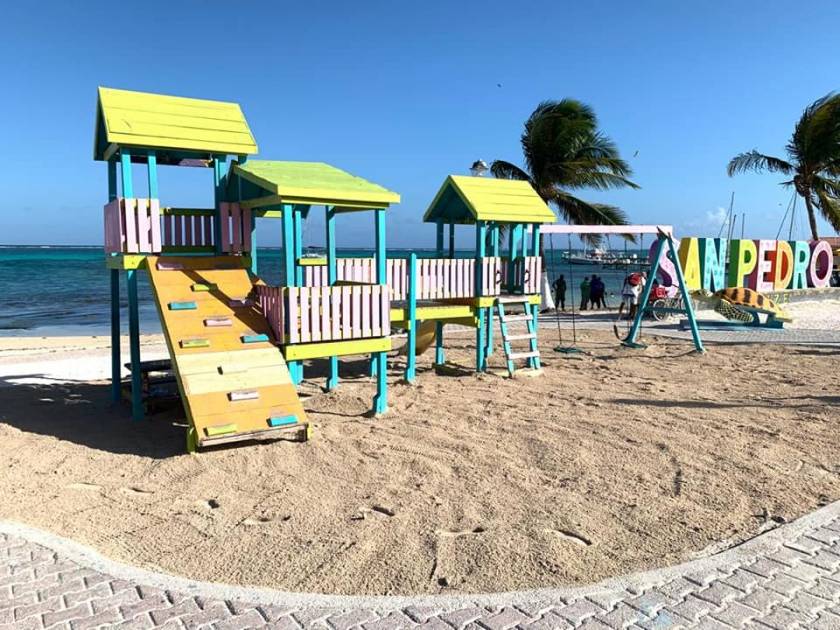 Visit the San Pedro Sign and Play at Central Park
Central Park is steps from the beach in central San Pedro, Ambergris Caye. It's near the San Pedro Express Water Taxi and near to the San Pedro Airport and Belize Chocolate Company.
San Pedro Central Park Highlights
It's a small park with a playground, beach, a few palm trees, a plaza and and a bathroom. The park is low key and unpretentious. During the day, a wide variety of food vendors arrive selling paleta (popsicles) and other snacks.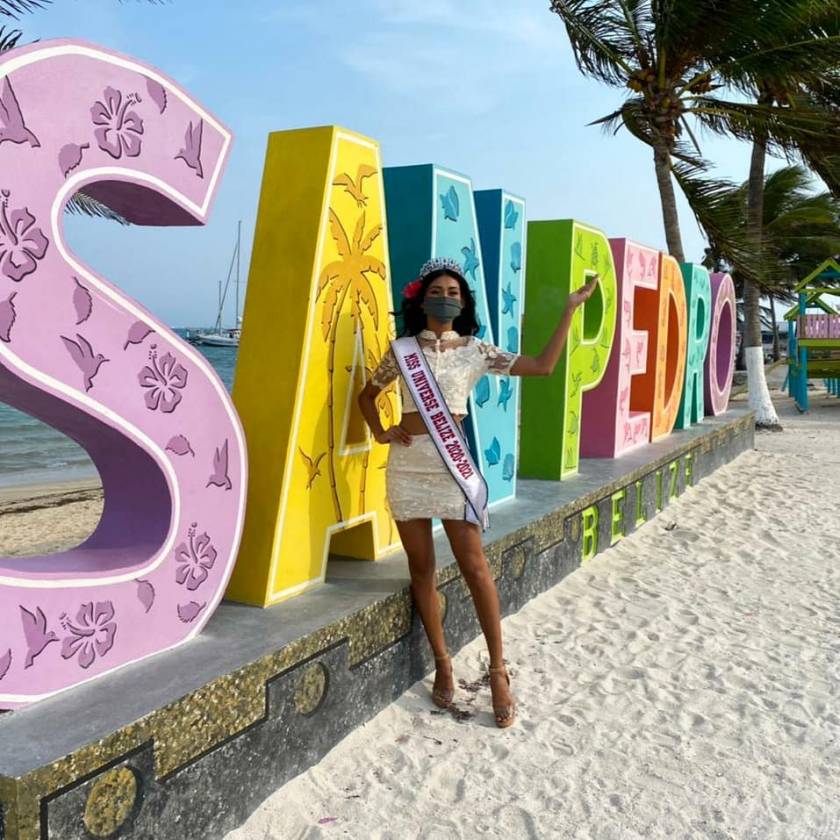 Who Should Go To San Pedro Cental Park with Kids?
Families who want a very instagramable pic with the San Pedro Belize Sign.
  
Anyone who wants to experience Ambergris Caye Like a local.
  
People who need to fill a few hours of downtime with free fun.
It's also the location for the new San Pedro sign, a popular spot of pictures.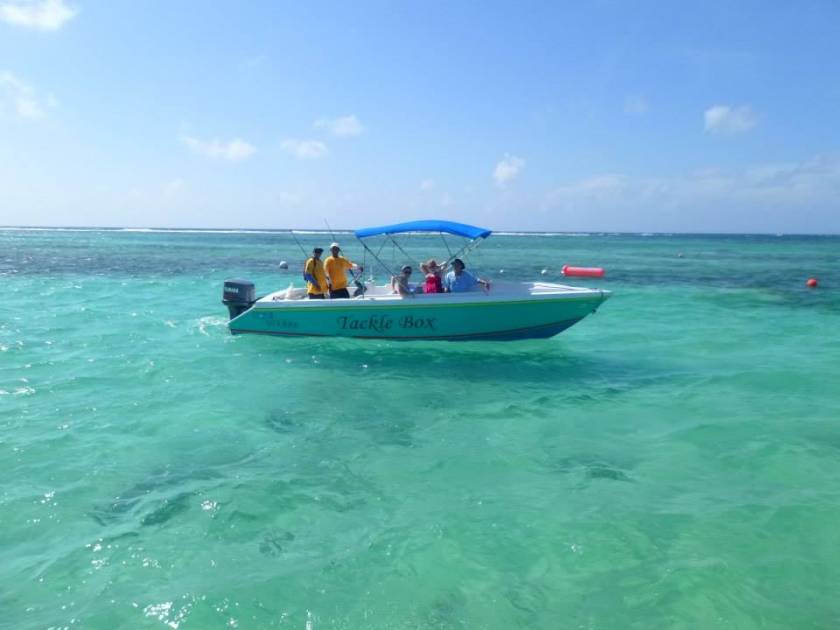 Tranquility Bay Fishing
- Tranquility Bay Resort, Ambergris Caye Belize
Golf Cart Drive and Fishing at Tranquility Bay
Tranquility Bay Resort is 13.5 miles north of San Pedro Town on Ambergris Caye. It's in the Basil Jones Area of Ambergris Caye near the border of Mexico.
Tranquility Bay Highlights
The drive to Tranquility Bay is one of the highlights. The drive takes about 45 minutes, you'll need to get directions because google maps can't calculate the route.
Once there Tranquility Bay is great place to relax. The kids can play on the beach while the adults eat at their beach bar and restaurant, The Aquarium.
They also have guided fishing and will clean and prepare dinner with your catch, so you can spend the entire day on the North Side of Ambergris Caye.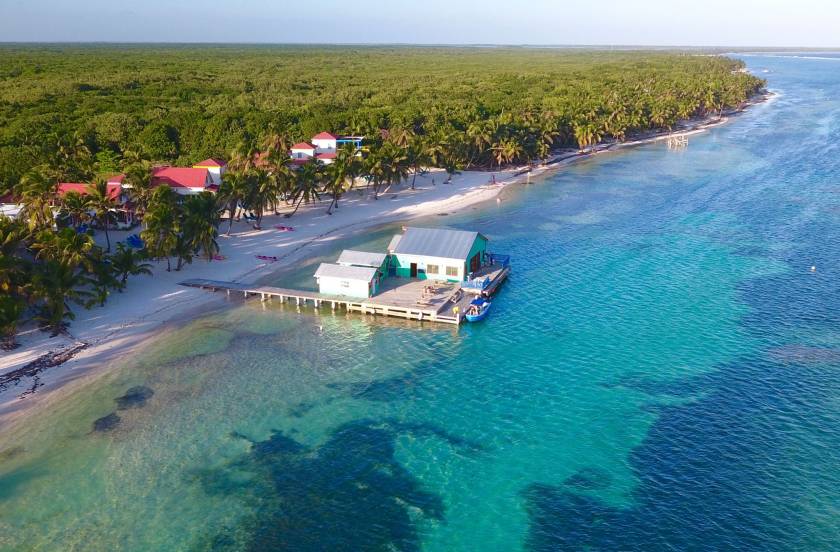 Tranquility Bay
- Tranquility Bay Resort, Ambergris Caye Belize
Who Should Go to Tranquility Bay With Kids?
Families who like to fish.
Anyone who wants a fun drive to the North Side of Ambergris Caye
They also have guided fishing and a catch your own dinner, so you can spend the entire day on the North Side of Ambergris Caye.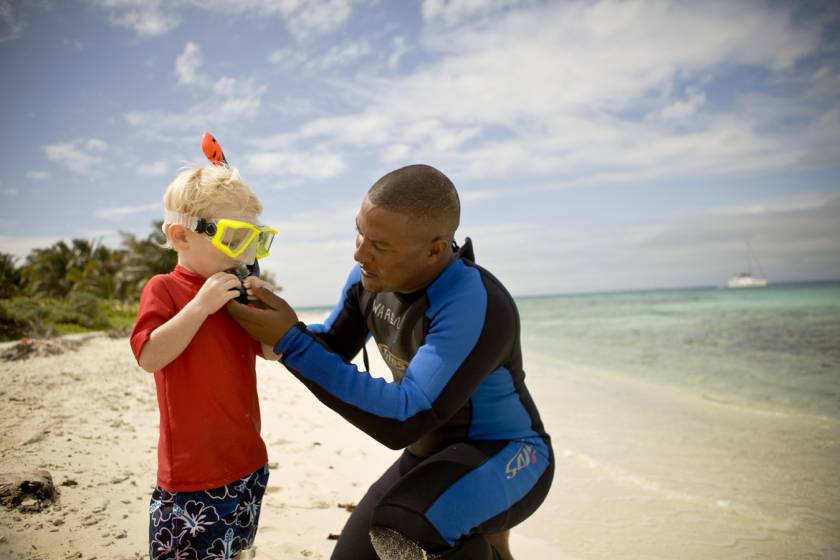 Snorkeling and Manatee Watching
Snorkeling the barrier reef is a must-do activity for any traveler to Ambergris Caye. There are tons of great spots to snorkel.
Snorkeling in Ambergris Caye Highlights
There are several locations to see manatees, including the Swallow Caye Marine Reserve near Caye Caulker or Ambergris Caye.
Hol Chan Marine Reserve is easily accessible by boat. Hol Chan mean little blue channel. With excellent visibility, this a fantastic spot to see aquatic life.
Not far from Hol Chan is Shark Ray Alley, it's shallow and snorkelers can see nurse sharks, Sting Rays, and a variety of coral.  The marine life is visible from the surface and is attracted to the approaching boats. There are also many other varieties of animals, such as grouper, yellow-tail, and moray eel.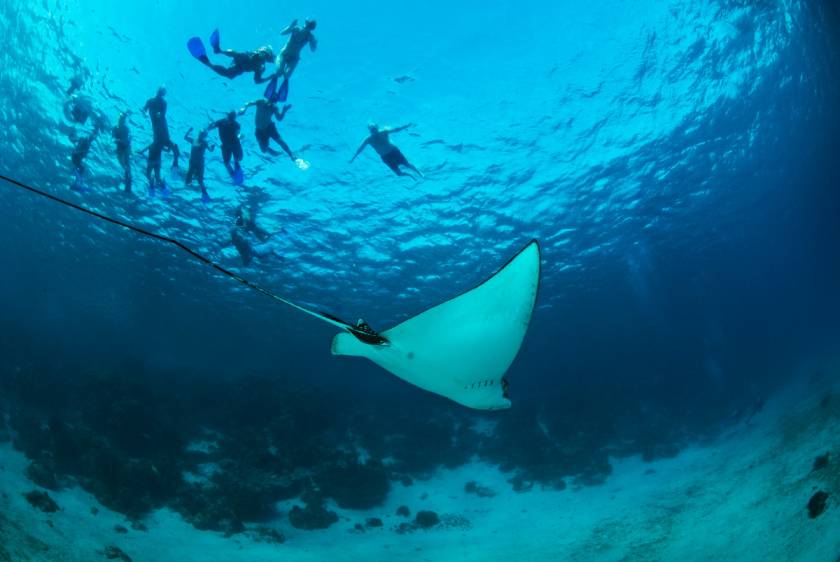 Who Should Go Snorkeling with Kids in Belize?
 Families with kids who like swimming and water sports.
Anyone interested in reef ecology.
Wrapping it Up
Ambergris Caye isn't as flashy as many Caribbean destinations, but that's why we like it. It's the perfect place for families with children who vacation here have tons of options for activities like snorkeling, fishing, and playing on the beach. It's more suitable for active folks who enjoy a bit of nature and adventure.